This year marks Quake's twentieth anniversary. It's more than a progenitor of the genre, it still stands out after all these years. Rebind the keys to modern WASD controls, add proper mouselook and it's incredibly playable today, all nostalgia aside. It's not just the fast-pace and high difficulty that sets it apart from the shooters today, it also demands that the players be far more aware of their surroundings.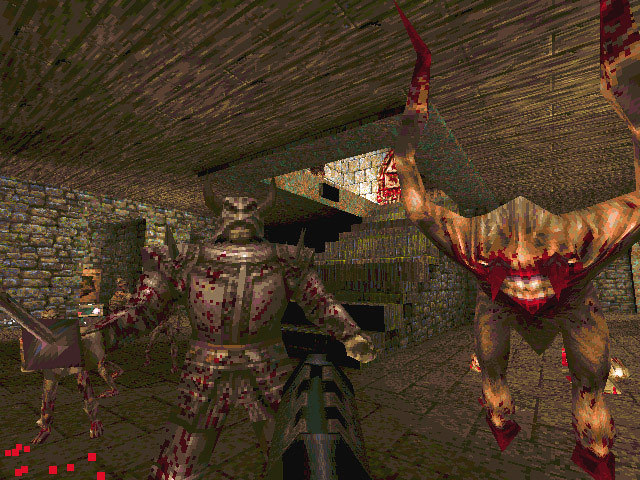 Quake almost entirely lacks
hitscan
weapons. Every enemy fires some sort of projectile that you can evade or a melee attack you can dodge. This makes the battlefield much more spacialy interesting as the player has to keep track of the rockets, nails, and grenades bouncing around. This is far more complex than modern cover-centric games which simply require the player be aware of which enemies are currently exposed.
Now that you're tracking all the projectiles, you also to deal with the enemies themselves. Placement is key here. A great example is the Ogre, who tosses bouncing grenades at you from a distance and slashes you with a high-damage chainsaw up close. To fight him, you want to stay in a middle distance, move laterally and be aware of how his grenades bounce behind you (which requires that you know the layout of the entire room, not just the 90 degree slice in front of you). The Death Knight is similar, but instead of grenades he fires a spread of fireballs which you'll have to weave through as you keep your distance from his nasty melee attacks. Now dodge the sudden and devastating leap attacks from a Fiend or two and you have yourself a situation that requires more than just ammo to get past.
The zombies are particularly interesting as they can only be permanently killed with explosives. Explosive weapons have splash damage that can hurt the player, so in close quarters, killing them can almost be more dangerous than letting them live. You not only have to be aware of the enemies attacks, but also your own response to them as well.
Quake demands a level of spacial awareness almost unheard of today. Even so-called retro shooters like Painkiller and Serious Sam really boil down to herding groups of enemies into more manageable groups and running in circles. Quake might toss fewer enemies at you, but it makes each one so much more interesting to fight.
Compare this to a modern shooter where the enemies all have hitscan weapons that slowly plink away at your health until you take cover. Occasionally someone will toss a grenade that'll force you to change to a different piece of cover, but that's it. Combined with a slower pace, they're more accessible but lack that sense-of-space that makes Quake so stimulating.
Put all of this in a unique setting that mixes sci-fi, fantasy, and horror, have Trent Reznor do a creepy atmospheric soundtrack and you have a stone-cold classic. Happy twentieth Quake, may your axe always be rusty.